Pour the perfect Crafty Monkey in your very own pint glass.
Only logged in customers who have purchased this product may leave a review.
Related products
A selection of 3 Crafty Monkey favourites. Available in light or dark ale. Contact us if you would like a different combination.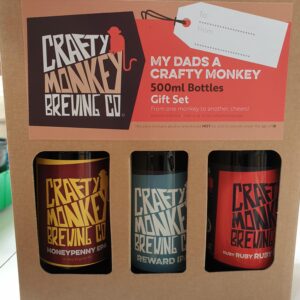 Out of stock
Is your Dad a Crafty Monkey?……. Well if he is he needs one of our gift boxes for Fathers Day If he isn't then…… He needs a Crafty Monkey gift box for Fathers Day and he will be…..