A case of 12 x 500ml bottles of single, or mixed beers.

Only logged in customers who have purchased this product may leave a review.
Related products
36 pints/20 Litre of Crafty Monkey to pour at home. Comes with cask tap for dispensing (Returnable with empty Pin)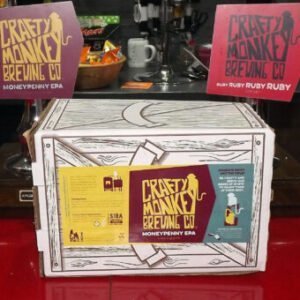 Out of stock
This is our cask ale that has been conditioned in our cellar. We transfer it to the bag in a box so you can enjoy it at home.
A case of 12 x 440ml Cans of Seven Seas. A beautiful blend of Cascade, mosaic and azacca American hops, giving a serious tropical fruit flavour and aroma. 5.3%